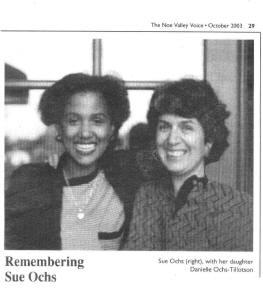 We mourn the loss of Sue Ochs, a friend, colleague and Benchmark alumna. Sue worked as a paralegal and then attorney at Mass Law Reform in Boston. In the 1980's she moved to San Francisco and worked for the Legal Aid Society of Alameda County. She opened her own practice but remained an integral part of the legal services community.
Throughout the years, Sue took many cases pro bono because it helped people and communities that she cared about. She took the hard cases, often winning the "un-winnables."
Sue generously shared her time and talent with legal services advocates including Benchmark. She advised participants at our public benefits training. She helped create training problems that were realistic and useful for learning. She wrote materials for our training.
In the best tradition of the legal profession, Sue contributed to the common good and carried out her work in expert fashion. She loved researching and analyzing the law and it showed in her work. If you wanted the best advice on handling a law and motion matter or an administrative agency appeal, you'd ask Sue.
In the truest sense of the word, Sue was an artist of the law.
She had many other talents such as painting and drawing. She donated a beautiful pencil drawing to be auctioned at our annual celebration. We can't bring ourselves to part with it now.
Goodbye, friend. And from all of us, thank you.
Donations in Sue's memory may be made to her daughter Hannah's college fund as follows: Fidelity Investments, P.O. Box 770001, Cincinnati, Ohio 45277-0015
Ref.: Hannah S. Ochs # 608178314
Remembering Sue Ochs, A loving tribute by Stephanie Levin
reprinted from the Oct 2003 Noe Valley Voice.