Persistence Pays for Mom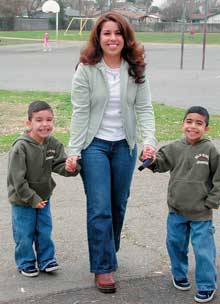 Woodland mom Vickie Chavarria with her twin sons, from left, Dominic and Donevan, who will now be enrolled in the same kindergarten classroom at Maxwell Elementary School. Photo: Andy Porras/Democrat
By ANDY PORRAS, special to The Democrat
After an apparent enrollment err by the Woodland Unified School District, a local family is finally breathing a double sigh of relief.
For nearly five months, the parents of five year-old twins Dominic and Donevan Chavarria sought to enroll them in the same kindergarten classroom.
Vickie and Michael Chavarria were told by school officials, however, that "it was in the best interest of the twins to be separated."
The Chavarrias rejected the district's recommendation.
"We were told that our sons could attend a private school or be home-schooled, that they could not be in the same classroom at Maxwell, our neighborhood school," said the twins' mom. "We can't afford a private institution and we could never replace a certified instructor, for a while things looked pretty bleak."
Acting on advice from another source, the Chavarrias got the assistance of the Legal Services of Northern California, which provides empowerment, advocacy, and access to the legal system to individuals, families, and communities in 23 counties throughout northern California.
"Rogelio Villagrana, staff advocate/equal justice works Fellow, proved to be a very important contact," said Chavarria. "His involvement became very instrumental in helping us."
Chavarria had contacted several school officials, including Superintendent Linda Weesner, Associate Superintendent Dale Weatherford, and Maxwell principal Sue Alves with respect to her predicament.
"I begin to feel really depressed and stressed out," said Chavarria. "I also begin to ask around our community if my situation was unique or what, why were my twins not able to be together for their first year of formal schooling?"
Chavarria, who has been a parent volunteer on behalf of her older son, Mikey, at Maxwell, started to compile information from other schools in the district.
"I discovered that most of our elementary schools had twins too," said Chavarria. "They were with the same teacher. One of the schools, Gibson, had two sets of twins in the same classroom."
Meanwhile, over at the legal assistance office, Villagrana was finding out there is no specific rule regarding twins.
"Carol Conley, from the district office, stated that there is no board policy on twins being placed in the same class," said Villagrana. "I then suggested that perhaps the board should establish such policy, preventing sad and taxing situations like the Chavarria case."
According to Villagrana, conferences scheduled with the superintendent and the teachers involved never materialized.
Chavarria, somewhat desperate and desiring for the twins to receive formal schooling as soon as possible, even asked the twins' doctor, Henry Kano, for advice. The doctor, himself a twin, was quick to send the school his recommendation to keep them together.
"While having a separate class may be beneficial in terms of developing independence," wrote Dr. Kano. "I do not feel that having the twins together in the same classroom will be detrimental to their development either."
Chavarria contends that she is all for the education and well being of her twins, whether in individual classrooms or together. She is quick to point out also that should the two children create serious class disturbances with separation an only solution, she will stand behind a teacher's recommendation.
On Monday, Chavarria received a call that she had longed for nearly five months. The school board had heeded Villagrana's petition. She could enroll her twins at Maxwell and request they be placed in the same classroom.
"They always talk about parent involvement and that one should never give up when embarking on a worthwhile quest for our children," said Chavarria. "Thanks to the school board and a very involved fellow, our twins will now begin their school year, officially."