Melissa Mona Receives Bandiero Award
Human rights activist, Melissa Mona, received the prestigious Emilio Bandiero Award from the Oregon Law Students' Public Interest Fund at its annual benefit auction and celebration on February 27, 2004. The award was presented to Melissa by U.S. District Court Judge Ann Aiken before a packed house of law students, faculty and community supporters at the University of Oregon School of Law.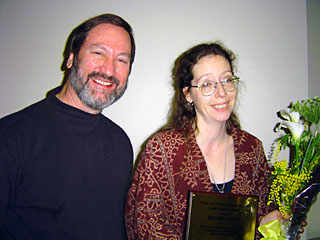 Melissa is a member of the staff at the Lane County Law and Advocacy Center. She serves on the Whitebird Board of Directors, the Lane County Law Library Committee, the Break the Chains prisoner support group, the Eugene Homeless Initiative and was formerly a member of the Eugene Human Rights Commission. In her spare time, she is studying Spanish (she is already fluent in English, French, and Ogalala Lakota - and reads and writes Arabic!). She has devoted countless hours and energy to supporting human rights, promoting equal justice and seeking freedom for political prisoners, including Native American leader Leonard Peltier. The Bandiero award is given annually for outstanding service in public interest law.